Sherry is also the founder of (no name) Art Group "Artists Making A Difference" in Philadelphia. Initiated in 1999, the group supports local and international charities through creative art exhibitions and fundraisers dedicated to raising awareness of significant world issues.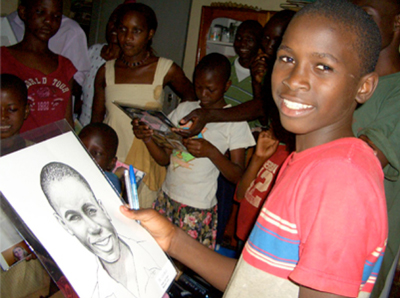 The (no name) Art Group has raised thousands of dollars for charities including:


---
Work Abroad
Sherry began traveling in her early twenties and found the experience offered a mind opening perspective of life in relation to the lives of others around the world. Since then, Sherry has explored over 50 different countries, immersed in their cultures and customs, many of which lack the freedom of artistic creation and expression. Recognizing the many opportunities she was afforded in life, like an art education, would become the driving force behind her motivation.
She began volunteering in 2004 in Costa Rica as an Art & English teacher for underprivileged children. This initiated local community projects, blogging, and fundraisers that share the impact of cultural exchange. She later expanded her experience and worked with numerous charities based in Costa Rica, India, Africa, Scotland, Laos, Cambodia and Peru. The majority of her philanthropic work has been with Lifestart Foundation in Vietnam. As creative director and founder of the Lifestart Foundation Workshop, Sherry helps those living in disadvantaged situations earn a sustainable income through the creation of fine arts/crafts.
Experience
Volunteer/Director: Vietnam | Lifestart Foundation
www.lifestartfoundation.org.au

March 2008 – Present: Initiating the non-profit Lifestart Foundation Workshop which focuses on creating unique handmade arts/crafts to help support those living in challenging situations in Hoi An, Vietnam
March-May 2006: Art teacher/English tutor for street children; Helped supply hospital & medical aid, food and other various needs in extremely impoverished areas
Travelblog Entries:
---
Director: CX Foundation
www.cxfoundation.com
March 2012: Director for project management and fundraising, specifically working with local people in Cusco, Peru and Oaxaco, Mexico
Travelblog Entries:
---
Volunteer: Scotland | Trees For Life
May 2008
Helping to restore the Caledonian Forest by planting the native Scots pine in the Scottish highlands.
Travelblog Entries:
---
Volunteer: Laos | Organic Mulberry Farm

February-March 2008
Graphic Designer for Mulberry Farm Restaurant and initiator of the Mulberry Mojito Fundraiser; part-time English tutor
Travelblog Entries:
---
Volunteer: Uganda | Soft Power Education
March 2007
Initiated the (no name) Art Group project and fundraiser Memory Portraits: Uganda for El-Shadai Foster Home
Design & execution of illustrated science aids for school walls for Soft Power Education
---
Volunteer: India | Cross-Cultural Solutions
www.crossculturalsolutions.org
May-June 2006
Art & English teacher responsible for daily planning and organizing creative arts/crafts learning projects for children ages 6-13
November 2006
Initiated the (no name) Art Group project and fundraiser Recipes 4 Success
Travelblog Entries:
---
Volunteer: Costa Rica | Cross-Cultural Solutions
www.crossculturalsolutions.org

February 2006
Mural design/execution in Special Needs School
February 2005
Mural design/execution in Hogarcito Orphanage andin Casa de AMURECI
December 2003-March 2004
Art & activities coordinator responsible for daily planning and organizing creative arts/crafts, learning projects and sports activities for children ages 6-14; English tutor for Costa Rican teens